TRI-CHANNEL, PROGRAMMABLE DC POWER SUPPLY
Programmable DC power supply is equipped with front panel programming and real-time waveform display functionality. It brings new experience to the user through the 4.3"panel TFT - LCD display. The SPD3000 series has 3 outputs modes: independent、parallel and series. Totaling 195W power. It is a great product that can be used in various types of production and research environments.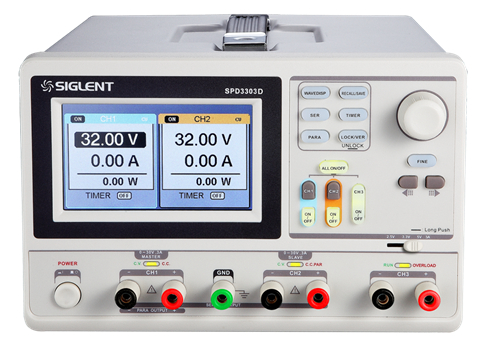 FEATURES - DC POWER SUPPLY
Separate control and independent & isolated triple outputs: 30V/3A*2, 2.5V/3.3V/5V/3A*1, total 195W power
High Resolution: 1mV/1mA (for SPD3303S) & 10mV/10mA (for SPD3303D)
Support pane timing output functions.
4.3 inches truecolor TFT-LCD display with 480*272 high-resolution
Large LCD display, concise HMI makes the machine easy to use.
Three output modes: independent, series and parallel.
100V/120V/220V/230V compatible design, to meet the need of different grid
Smart temperature controlled fan, effectively reduce the noise.
Save/Recall 5 group system specifications, support data storage expansion.
Support SCPI, PC software and USB device.
SPECIFICATIONS - DC POWER SUPPLY
Model
SPD3303D
SPD3303S
Channel
CH1
CH2
CH3
CH1
CH2
CH3
Output Voltage
0~30V
2.5/3.3/5V
0~30V
2.5/3.3/5V
Output Current
0~3A
0~3A
0~3A
0~3A
Display
30V FS, 4 digits display
30V FS, 5 digits display
3A FS, 3 digits display
3A FS, 4 digits display
Resolution
10mV/10mA
1mV/1mA
Prog Accuracy
V: ±(0.5% of reading
+ 2 digits)
V: ±(0.3% of reading
+10mV)
I: ±(0.5% of reading
+ 2 digits)
V: ±(0.3% of reading
+10mA)
Readback Accuracy
V: ±(0.5% of reading
+ 2 digits)
V: ±(0.3% of reading
+10mV)
I: ±(0.5% of reading
+ 2 digits)
V: ±(0.3% of reading
+10mA)
Line Regulation
(CV Mode)
< 0.01% + 3mV
Line Regulation
(CC Mode)
< 0.02% + 3mV
Load Regulation
(CV Mode)
< 0.01% + 3mV
Load Regulation
(CC Mode)
< 0.02% + 3mV
Memory Save/Recall
5 sets
Max Output Power
195W
Power Source
AC 100V/120V/220V/230V ±10% 50/60Hz
Interface
USB Device
Insulation

Case to Terminal: Mohm or above(DC 500V)
Case to AC line: 30 Mohm or above(DC 500V)

Dimension
275X 225 X 136 mm
Weight
8 kg
STANDARD PACKAGE comprises of-

Power Chord
PC Software
USB Cable
Product Certificate
User Manual
Warranty Card